Gaia Smart Cities is a combination of IT, Electronics and Telecommunications company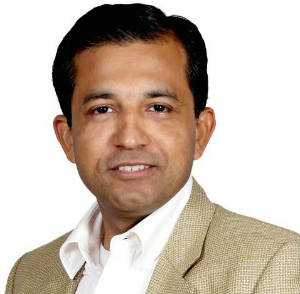 ST Bureau: When did you decide to take the path of 'entrepreneurship' as your career? Do you remember any special incident?
Dr. Sumit D Chowdhury:
I am a B.Tech from IIT Kanpur and MS and Ph.D from Carnegie Mellon University. I have been working in the field of electronics and communications networks right through my undergraduate and graduate studies and all the jobs I have been doing over 24 years. Having led consulting groups in KPMG, BearingPoint, IBM and CIO of Reliance Communications and President with Reliance Jio, I have had experience in managing technology and technical people solving country-wide mission critical telecom infrastructure. I am also a solutioneer by heart - always looking for ways to find solutions to problems. So when we started Gaia Smart Cities, it was an amalgamation of networks, electronics, IT, Urban Planning and Policy making - everything that I have done or wanted to do. My cofounder Bipin has couple of patents and worked in several internet startups and in big companies solving complex systems problems. We both were fascinated with IoT and Urban Design and the concept of creating an ecosystem of solutions for solving wide-area urban and industrial problems using IOT Technology. Bipin has been an entrepreneur twice before and I have funded three other startups before. This was not an accident. It was destiny.
ST Bureau: Can you briefly tell us more about your startup?
Dr. Sumit D Chowdhury:
Gaia Smart Cities brings together three concepts that are changing how we live, work and interact with our living environments – a) Internet of Things, b) Smart Cities and, c) Industrial Automation. As India and almost every country across the world is dealing with rapid urbanization, creating pressures on the infrastructure and environment, the cities are embarking on projects that improve their sustainability and improve the quality of life of their citizens. Industries are also looking for more information from their deployed assets. These cities and industries will use the power of ubiquitous communication networks, highly distributed wireless sensor technology, and intelligent management systems to solve current and future challenges and create exciting new services.
We are a combination of IT, Electronics and Telecommunications company. We are actually very focused on solving wide-area urban problems that requires a combination of the above three components. We are creating an IOT Virtual Network allowing devices with different communication and load characteristics to connect and communicate to backend infrastructure seamlessly. We think like a Telco (in terms of large scale mission critical infrastructure), we execute like a start-up - agile and nimble, and we innovate like a silicon-valley company solving problems with a combination of hardware and software building IP along the way. We have tried to apply concepts learnt in the telecom IT domain and created an unique solution architecture for agile cities where information is shared and acted upon across different domains. This is the USP that positions us above our competition.
The name Gaia (Mythological Greek Goddess of Earth) was chosen by us from the much known "Gaia Hypothesis" that was proposed by James Lovelock in 1960s. This hypothesis stated that everything (living and non-living) in this world is connected with each other and communicating with each other to keep the world in balance. This philosophy was very suited with the concept of the Internet of Things – connecting "things" to the current internet of information and internet of / for people so that they can share information and keep the world in balance. We added Smart Cities to the name to reflect the fact that we were addressing large wide area urban problems.
ST Bureau: How big is your team at present?
Dr. Sumit D Chowdhury:
At present we are 18 full time members along with another 20 associates and interns who are contributing to the company. Apart from my co-founder Bipin and me, there are 8 others who are considered as the Founding Team. They are equally passionate about the concept and have all joined to achieve the mission of the company.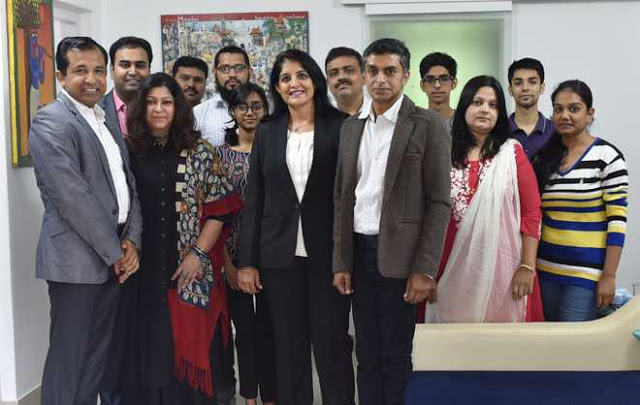 ST Bureau: Did you get any funding for your startup? Are you planning to attract funding in the near future?
Dr. Sumit D Chowdhury:
We are angel and promoter funded at this time. We have got customer projects that fund the rest of the product development. We are in the market for a Series-A growth funding. We are in discussions with several investors at this time.
ST Bureau: What challenges do you face in your daily professional life?
Dr. Sumit D Chowdhury:
As a start-up and managing a start-up team has several challenges. Not everyone in the team is geared towards a start-up working culture so managing those expectations and creating the culture of self-discipline rigor is most important. Having the cash flow to ensure deliverables are met timely and vendors are paid timely is the next challenge. Then there are challenges of technology and client requirements that have to be managed. Some clients do not give the entrepreneur the benefit of doubt. Finally finding time for doing everything that needs to or has be done a on a daily basis the final challenge.
ST Bureau: How do you see yourself in next 2 years from now?
Dr. Sumit D Chowdhury:
In two years we should be a Series-A funded scaling startup with at least 100-150 people. We should have made a mark in both the startup and the smart cities domain the country. We would be working on very innovative ideas that are really changing how people live and work.
ST Bureau: What are your hobbies in your personal life? Which is your favorite holiday destination?
Dr. Sumit D Chowdhury:
I have several hobbies which I continue to pursue. I am a marathon runner and long distance cyclist. I am also a painter and musician. Frankly after I started my company, I have not had time for music or art but I continue to run and ride. I am also a motivational speaker and that I do very often. I accept whatever opportunity I get to practice any of my above interests. If there is time and opportunity, I am at it.
I have traveled to 48 countries so far and that has been a constant source of inspiration for me. I don't have a favorite place. I still have many more places to go. I look for unique experiences in each of these locations. I love taking pictures that capture the essence of the place - the local colors, sounds, smells, daily occurrences that are different from the rest of the world.