Startups need to focus on getting real clients, real revenues: Amrita Chowdhury, Director of Gaia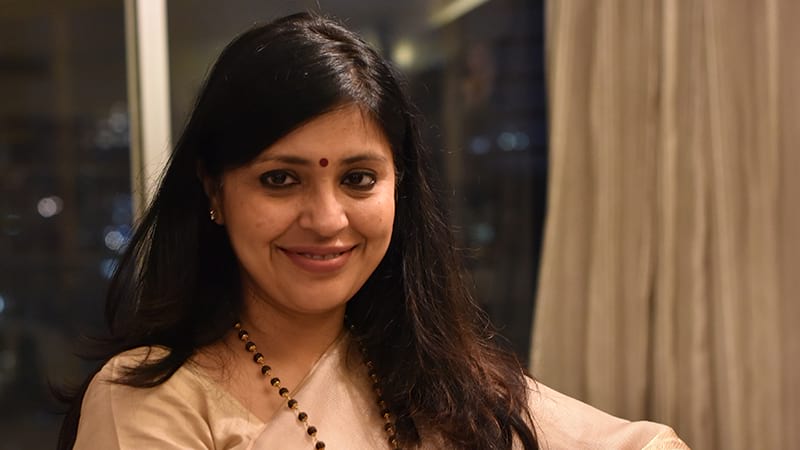 Gaia is an Internet of Things (IoT) and automation company providing end-to-end solutions to enable a smart transformation of enterprises and cities.

As a business strategist, engineer and an innovator, Amrita Chowdhury is one of the founding team members and a director in Gaia. She is involved in every aspect of the firm -- from strategy to delivery—and looks after the overall marketing and business/ finance functions and "spends a lot of time in business development". In an exclusive interview, she discusses Gaia's journey and vision amid the current investment climate for startups in India.
1. Tell us about the concept of smart cities and the contribution of Gaia in achieving it.
India's Smart Cities Mission is the most ambitious program around the world of urban transformation, aimed at changing how 100 cities in India work and operate and provide citizen-centric solutions. Planning has always been top-down in India. This has been the first attempt of its kind – of looking at city planning from multiple aspects and multiple stakeholders. Each city is coming up with plans for tech-infused urban revitalisation. Some cities are already implementing their plans, whereas other cities are moving in a phased manner from detailed planning to managing bids to appoint vendors who will do the implementation.
Gaia is a feedback and data analytics company, providing solutions to wide area problems. Gaia has been involved in every stage of the smart cities mission, including strategic ICT planning; detailed city-level technology blueprint planning; building a city-owned wide area network; and implementing Internet of Things-based solutions in several cities.
2. In a country like India, do you think participative governance will lead to sustainable development?
Participative governance comes in two forms – involving citizens in planning and in the governance process. During Smart Cities Mission planning phase, each city had to mandatorily solicit citizens' opinions on the changes needed. This collective opinion led to each city choosing the unique set of initiatives.
There are several initiatives and ways in which citizen feedback and grievances are being captured. This provides a way to monitor on the quality of public service delivery and the last-mile impact. For example, Gaia's Smart Feedback Monitoring solutions are helping cities monitor citizens' sentiments and thus the impact of last-mile delivery of sanitation work by third-party contractors. This increasingly provides means for using citizens feedback in the governance monitoring process.
3. Elaborate on your role in Gaia
I am one of the founding team members of Gaia, and a Director of the company. As such, I am involved in every aspect of the firm from strategy to delivery. I look after the overall marketing and business/ finance functions and spend a lot of time in business development.
4. Since you pitch for getting investments, what do you think are the key areas for any start-up to focus on to make an impressive pitch?
The investment climate for startups is dynamic and highly competitive. Few years ago, investors were willing to consider ideas and early-stage companies. Today, early-stage funding has become scant and hence startups need to show business traction on a proper business plan to attract investors. Hence, startups need to focus on getting real clients and real revenues. Traversing the journey from idea to product development to market gains quickly will enable startups to attract investors.
5. As far as attracting investors are concerned, what are the major challenges you need to overcome as a start-up to gain the faith of the investors?
Investors are looking for business models that can scale up. Startups tend to focus on product ideas and innovation. Hence, combining the two mindsets is critical to show early market traction and significant long-term potential.
6. Having led several multinational companies, why did you choose to be a part of a start-up?
I have worked with large multinationals in USA and Australia, but also been an intrapreneur setting up and managing early-stage businesses for South Asia for global organisations. So, in that sense, I have seen both sides before starting the entrepreneurial journey. To some extent, managing and growing early-stage businesses taught me more about managing depth as well as breadth.
Gaia was founded to leverage new age technologies to impact cities and enterprises, and it's been a rewarding and eventful start. We have worked on national scale projects for Smart Cities Mission, Swachh Bharat, and others. We have provided national scale monitoring solutions to city and enterprise clients.
We have won numerous awards and recognition along the way, including incubation by ST Microelectronics; Microsoft Scale Up accelerator; Qualcomm Design in India Finalist; Microsoft Machine Learning Winner; Mayor of London India Emerging 20 List 2018, and several business awards for the Internet of Things and social innovation.